The Canadian International School System (CISS) (including 4 member schools: CVK, CIS, BCIS, and AES) has just announced a special financial support program for parents called "Tuition Companionship", cooperated with Shinhan Bank, Vietcombank, and ACB. Parents are entitled to an interest-free unsecured loan of up to VND 900 million with a maximum term of 5 years. During the loan term, the school will finance the entire interest rate.
5 years with no tuition increases
"Tuition Companionship" is CISS's largest financial aid program ever offered to both prospective and current parents. Instead of paying tuition fees only once or twice a year, parents can borrow money from the school's partners, Shinhanbank, VCB, and ACB, and pay tuition monthly. Fees vary by school and grade level. Shinhanbank, in particular, offers an unsecured loan of up to 900 million VND, or an unlimited loan if parents choose to take out a mortgage.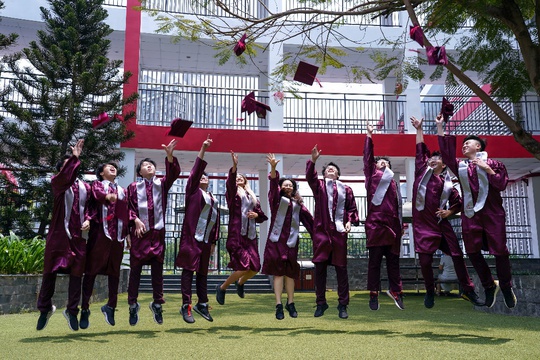 According to calculations by CISS representatives, if parents send their children to Albert Einstein School (AES), when participating the "Tuition Companionship", the fee is only from 7 million/month for 1st grade, or on average 11-13 million/month for the entire course. If you choose to study bilingual at BCIS, the monthly tuition fee is 13-15 million VND, especially for CIS - the most advanced segment of the system, students enjoy a completely international environment, tuition fees maximum when participating in the program is 25-35 million VND/month. This tuition fee is considered quite competitive with international and private schools, even with public schools.
Many parents with children studying in public and private schools share that, in fact, although the regular school fees are not high, if you add the extra fees for English, major cultural subjects, and other skills training, the total cost invests for each child's education is also about 7 to 10 million/month. Meanwhile, an international education environment like CISS can teach students soft skills, English ability, and the opportunity to get an international education degree, but the amount to be paid is not too different. At the same time, studying at CISS also reduces the extra time and pressure for students.
The most special feature of CISS's "Tuition Companionship" program is that the school is committed to keeping the preferential tuition rate unchanged for up to 5 years, depending on the level of study package registered. In addition, new parents who register for the program also receive additional incentives upon admission such as a free entrance test, a gift voucher 20% discount on food and bus fare for the first school year.
Ms. Nguyen Thi Kieu Oanh - General Director of Khoi Nguyen Education (KNE), the investor of the Canadian International School System, affirmed that even after the end of the "Tuition Companionship" program, CISS schools will also try to keep tuition rates stable. In the case of objectively having to adjust the tuition fee, it will only increase according to the inflation rate announced by the State.
Ms. Oanh also shared: "This is not the first time CISS has implemented financial support programs for parents. Since its establishment in 2009, the Canadian International School was the first to launch the program "Founding Parents", inaugurated the "trend" to develop financial aid programs in international and private schools, which were once seen as doors that were out of reach for many families. Since then, CISS has always had a variety of financial support programs for parents every year, such as Privilege member, Special member, Passport to CIS/BCIS/AES, etc. These programs open up opportunities for many students from families with different incomes to access the progressive educational environment at CISS. Perhaps this is also a way to exercise social responsibility that educational businesses should do".
Diverse high school programs from Canada, the UK, Australia, International Baccalaureate and Vietnam

Besides providing a safe and effective financial solution, helping parents prepare for their child's long-term learning journey from Kindergarten to the end of high school, one of the most important goals of the "Tuition Companionship" program is to help senior students earn prestigious international high school diplomas from the UK, Australia or Canada, and also the International Baccalaureate (IB).
Dr. Brenda Williamson - CISS Head of school shared, CISS students have a variety of options for tuition fees and study programs. Specifically, at AES inter-school, students can participate in international programs and get a high school certificate from Victorian State (Australia), or choose to follow the high school program of the Ministry of Education and Training of Vietnam. At BCIS bilingual school, in addition to the Vietnamese program, students can participate in the pathway to obtain the British High School Certificate (IGCSE) and the Advanced High School Certificate AS/A-level. At CIS, students can earn a high school diploma from the province of Ontario, Canada (OSSD) or pursue the International Baccalaureate Diploma Program (IBDP). With these diverse and international-standard study programs, every year, CISS grade 12 students regularly receive a lot of scholarships from famous universities globally in Canada, USA, the UK, Australia, South Korea, and many other countries, with prices ranging from a few thousand to several hundred thousand USD…
The arrival of the Covid-19 pandemic has increased the pressure to pay tuition fees for families with children attending non-public schools, especially families with 2-3 children or more. The "Tuition Companionship" program demonstrates the practical companionship and sharing of the Canadian International School System with parents while waiting for the economic recovery after more than two consecutive difficult years because of the epidemic.