Seeing is Believing
Seeing is Believing
Before Christmas, we were contacted by one our CIS parents regarding a baby who needed eye surgery. The parents (Nguyen Duc Hien and Nguyen Thi Thuong) are a poor couple from Phu Yen Province. They travelled from local hospitals to major city hospitals, from north to south in hopes of finding a doctor who could perform the delicate procedure of reattaching the baby's retinas.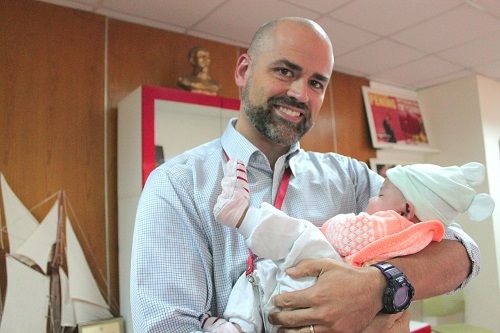 Mr. Jay Prodger (CAS/GIN Coordinator) and baby Hoa
Without the surgery, baby Hoa (Nguyễn Thu Nhã Hòa) would be blind. These devoted parents have used all of their savings and borrowed millions of dong to try to save their daughter's eyesight. Her story captured our hearts and as a community at CIS, we came together and collected 43 million VND at CIS. An additional 50 million VND in donations were made by our community to Vinacapital directly for a total of 93 million VND. The family was fortunate to find Dr. Nam-Tran H. Pham, Medical Director of the American Eye Center Vietnam. The surgery was successful but Hoa will need aftercare and treatment.
According to Dr. Nam-Tran, "Baby is doing well. She will be needing ongoing long-term treatments and contact lenses to optimize her vision." The funds we've raised will be given to Vinacapital Foundation as they are coordinating donations for baby Hoa. If you have any inquiries or wish to make a donation, please contact: Ms Robin Austin at rkingaustin@vinacapitalfoundation.org or Mr Rad Kivette at rad.kivette@vinacapitalfoundation.org
On behalf of our Board of Directors, leadership team and GIN community at CIS, we'd like to thank all our donors: parents, students and staff. A small presentation was made to baby Hoa and her parents on Friday February 26. Together we CAN make a difference.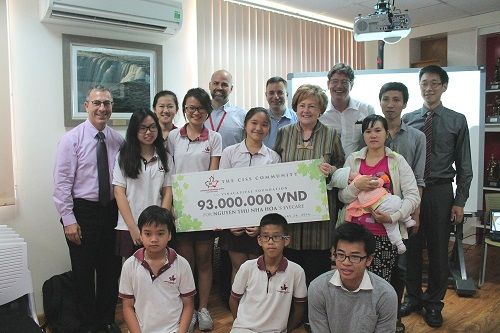 By Mr. Jay Prodger (CAS/GIN Coordinator)